---
Gender: Female
Birthday: Hidden
Location: Florida
Offline
CedarLilly's Local Time: October 23rd 2017 at 08:32 AM
Last Visit: February 7th 2014
About Me: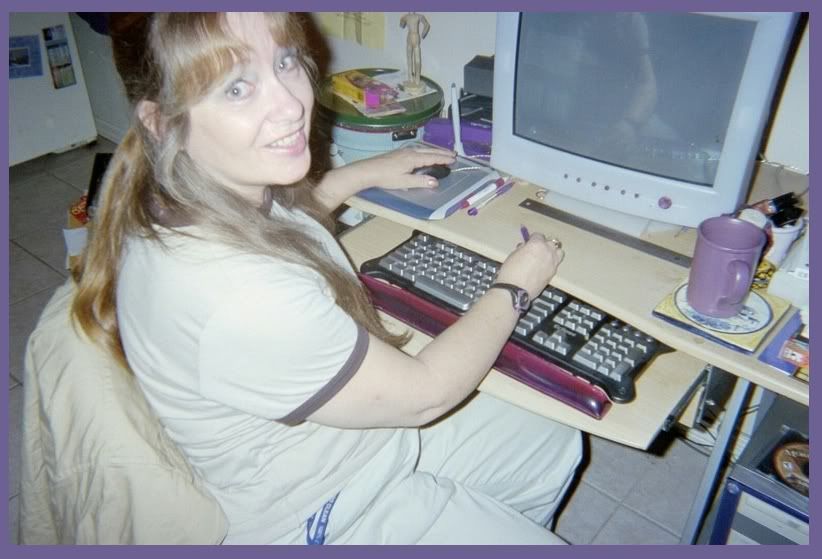 STARTER CHARACTER FOR ALL TES GAMES = Khagiinet Do'Kaasi - Ohmes-Raht Khajiit
This one is Alpha Female of The Wolf Pack which is the Honor Guard that protects The Guild Mane and the Clan Mother of Va Khaj Dar Caravan (all-Khajiit TESO Guild) "To Be Desert Thief is not just our name but our way of life."

I am an avid Elder Scrolls fan and online gamer so this is the match made in Heaven I've been waiting for since Arena. I am a watercolor and pastel drawing artist and like swimming & bicycle riding. I am a disabled USAF veteran and work at the Veterans Administration helping other veterans all I can.

I have 9 characters in Guild Wars (1 not 2). I will mention my foavorite ones:
Thurdara Grim - Human Warrior lvl 20
Hera Bowsong - Human Ranger lvl 20
Kate Bloodbane - Human Mesmer lvl 14
FyreLilly Wynde - Human Elementalist lvl 20

I have 10 characters now in EQ2 - favorites are:
Khajiinet Do'Kaassi - Kerran (Khajiit) Ranger lvl 26/Provisioner lvl 38
Tygerliily Do'Kaassi - Kerran Assassin lvl 5/wood weaponer lvl 1
Cedarlilly Wynde - Wood Elf Assassin lvl 26/carpenter lvl36
Joalyn Wynde - High Elf Duchess lvl 54/Clothier lvl 44

TES characters (in multi-games):
Khagiinet Do'Kaassi - Khajiit Thief .... for TESO she will be Warrior/Spy
Ibis Helios - Altmer Mage .... same in TESO
CedarLilly Wynde - Bosmer Ranger ... same in TESO
Slooma Muzgob - Orc Warrioress .... might be different
..... and many more for each province ....

AVATAR = I have shown several Khybrid/Khajiit avatars because I always start TES games with a Khajiit and in TESO want to have Khagiinet be a Warrior/Spy hopefully riding a Senche battlecat. But my name CedarLilly is actually my Bosmer name; so I will fly my Bosmer avatar for awhile and possibly after awhile show some other favorite TES characters who expect to be in TESO.
---
My Signature:
TESO - - Multiplayer: "M'aiq does not know this word. You wish others to help you in your quest? Coward! If you must, search for the Argonian Im-Leet, or perhaps the big Nord, Rolf the Uber. They will certainly wish to join you." M'aiq the Liar.

"Va Khaj Dar - Khajiity's united? M'aiq will join!" M'aiq the Liar

Website:
http://s63.photobucket.com/albums/h155/SunburstStudio/
The Elder Scrolls Online: Character Profile
Character Name:
(coming soon)
Faction (Race): Aldmeri Dominion (Khajiit)
Bio:
(coming soon)
Guestbook Comments

(Reads from bottom to top)

You can't send a comment to this user because your usergroup cannot send comments.

Asmoden

(September 20th 2013 at 05:09 AM)

Cairanmac1

(September 9th 2013 at 09:01 AM)

CedarLilly

, Wow that's awesome

Rage

(April 29th 2013 at 01:19 AM)

CedarLilly

Oh yea, I absolutely love it. I set out to find some picture fitting my character and instead I found perfect one. Real Dunmer instead of dark-skinned elf substitutes

Najla

(April 18th 2013 at 06:00 AM)

CedarLilly

, Nope, though he'd love to be one I'm sure! He use to draw often when he was younger but was discouraged when people started making digital art and using paint-shop programs. He's just recently picked it up again and slowly learning how to edit them using computer programs. Thanks for the compliment, I'll pass it along !

Kilivin

(April 14th 2013 at 11:09 AM)

CedarLilly

, Haha, thanks! I searched forever for different orcs. This is a D&D photo I found since they seem to have the best looking portraits for anything fantasy that I've ever seen. I like yours as well! :D

Najla

(April 12th 2013 at 12:07 PM)

The new avatar is cute!!



Seamus

(February 23rd 2013 at 03:59 PM)

Qa Dar

(November 9th 2012 at 03:06 PM)

Qa Dar Welcomes CedarLilly in Va Khaj Dar.

May your adventures be grand and your fortune grow steadily


CedarLilly's buddies
(Adding a user to your buddy list does not send a friend request. The buddy list is one-sided and mostly for PM purposes.)
---